White Zombie fue una banda de Industrial/Groove Metal, cuyo nombre fue extraído de la película de 1932 White Zombie, protagonizada por Béla Lugosi.
Creados en Nueva York, White Zombie originalmente fue una banda de noise rock en la misma categoría de Sonic Youth.
White Zombie fue conocido por combinar el metal con los riffs de guitarra (como en "Super-Charger Heaven") sobrecargado de líricas fuertemente influidas por películas de terror y una estética pseudo-satánica. A diferencia de otras bandas metal de los 90, White Zombie era casi exclusivamente una banda de "fantasía", escribían canciones no sobre de la vida real, sino sobre fantasías de terror surreales.
Integrantes (formación final):
Rob Zombie (Rob Cummings) – voz
Sean Yseult – bajo
Jay Yuenger – guitarra
John Tempesta – batería
1. Ratmouth
2. Shack of Hate
3. Drowning the Colossus
4. Crow III
5. Die Zombie Die
6. Skin
7. Truck on Fire
8. Future Shock
9. Scum Kill
10. Diamond Ass
Make Them Die Slowly - 1989
1. Demonspeed
2. Disaster Blaster
3. Murderworld
4. Revenge
5. Acid Flesh
6. Power Hungry
7. Godslayer
La Sexorcisto: Devil Music, Vol. 1 - 1992
1. Welcome to Planet Motherfucker/Psychoholic Slag
2. Knuckle Duster (Radio 1-A)
3. Thunder Kiss '65
4. Black Sunshine
5. Soul-Crusher
6. Cosmic Monsters Inc.
7. Spiderbaby (Yeah-Yeah-Yeah)
8. I Am Legend
9. Knuckle Duster (Radio 2-B)
10. Thrust!
11. One Big Crunch
12. Grindhouse (A Go-Go)
13. Starface
14. Warp Asylum
Astro Creep: 2000 - 1995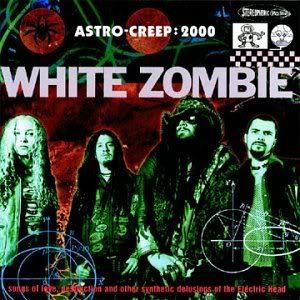 1. Electric Head Pt. 1 (The Agony)
2. Super-Charger Heaven
3. Real Solution #9
4. Creature of the Wheel
5. Electric Head Pt. 2 (The Ecstasy)
6. Grease Paint and Monkey Brains
7. I, Zombie
8. More Human than Human
9. El Phantasmo and the Chicken-Run Blast-O-Rama
10. Blur the Technicolor
11. Blood, Milk and Sky
12. Where The Sidewalk Ends, The Bug Parade Begins (pista oculta en el minuto 8:45 en la pista 11)